Latest mens haircuts are anything but boring! From pompadours to fades, to buns and beards, there is a latest mens haircut to suit every personality!
Opt for something a little edgier like a faux hawk, or if you have longer hair then go for a slick back, quiff, comb overs, or tie it back. If you want to keep it cool and casual, and not too daring, then we show you the different types of fades.
With thick hair, thin hair, or curly hair, we have you covered to find a stylish latest mens haircut that will be a unique cut for you. Whether your look is hipster, conservative, polished, or a bit of all, then read on to find the perfect latest men's hairstyles for you!
1: Temple Fade Men's haircut:
This Temple fade men's haircut is perfect for men who are looking for a style that will help them stand out from the crowd. The zero fade in the back and sides, along with the modern, slicked-back finish makes it an easily maintainable style and looks great on almost all men's face shapes.
2: A Textured Top:
A textured top look is a great, spunky hairstyle for men that will give fine hair more volume. This is a dapper, gentlemen hairstyle. Keep the sides shorter, and a long top that will add in plenty of natural-looking texture.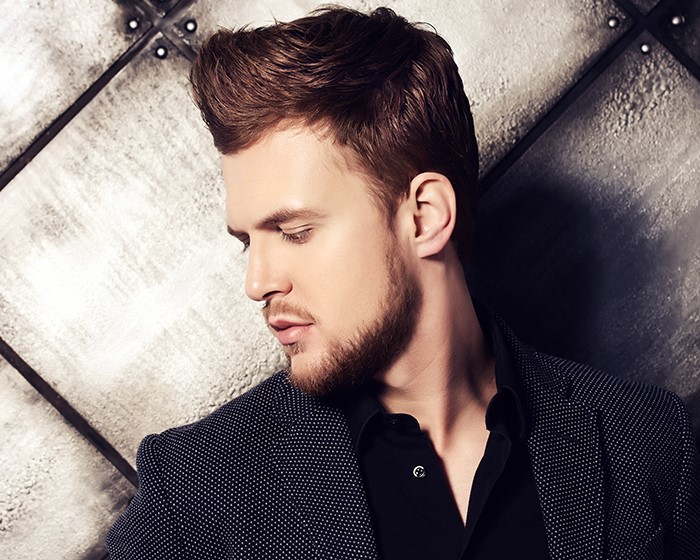 3: The Quiff:
Quiff the front of your hair to create an 'Ivy League' haircut. This haircut is a classic men's hairstyle and has been around for years, and is great for thin hair. The Quiff look is created by leaving the top significantly longer, and slowing for a sleek, side-parted style.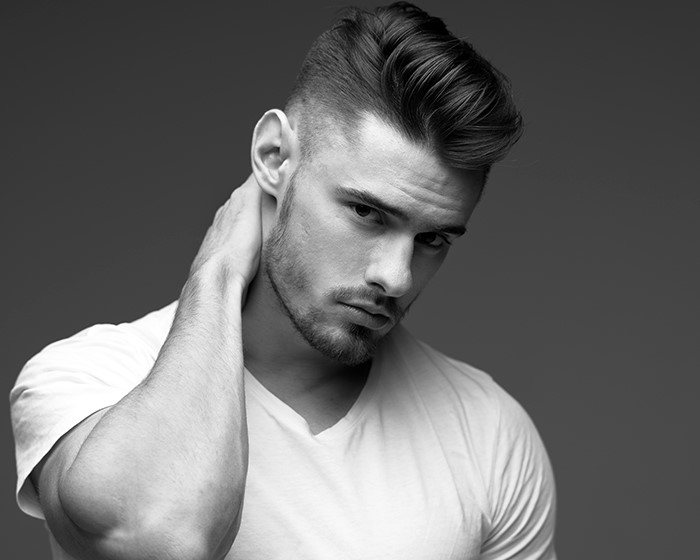 4: The Pompadour:
A pompadour is a men's hairstyle that will never go out of style. Yet, if you want to bring it up to date, there are multiple ways to do it and a fade cut is one of the most popular ways. Depending on how striking or soft you want your look to be, you can opt for different fade haircuts for men. This image shows a high, clean skin fade look with a pompadour.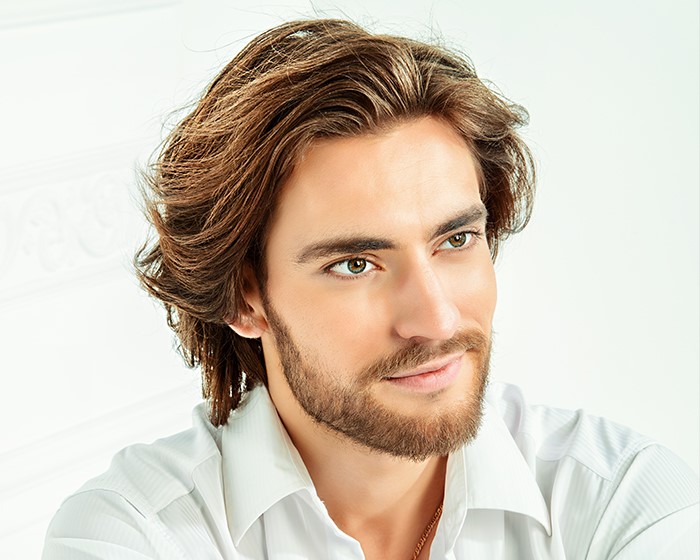 5: Medium Men's Layer Cut:
Want to look camera-ready? Then why don't you go for this brushed back men's style, that will have you looking like Hercules. This will require some maintenance and you will require you hair to grow long, and healthy. This look will give you abundant volume and will look extremely sexy.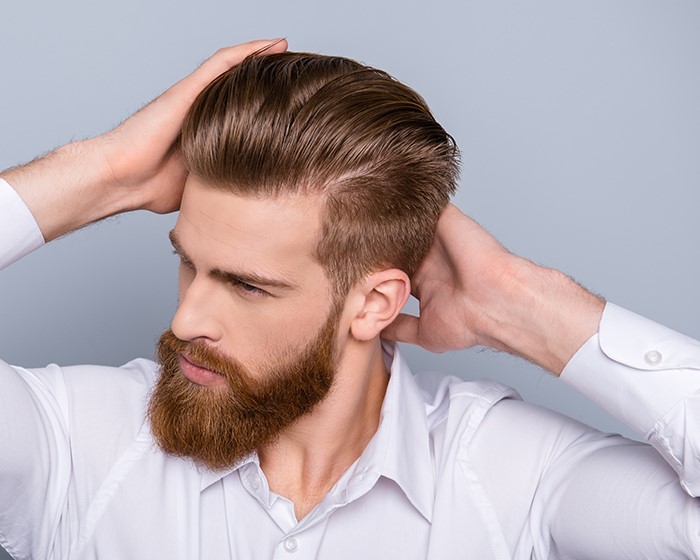 6: Neat and Slick:
A short hair brushed back look is stylish and comfy all at once. By keeping your hair at a moderate, less contrasting length and brushing it to the back is enough to make it fit not only a casual but also a formal look. An addition of soft layers at the front will also give a unique neat and slick look top your new men's hairstyle.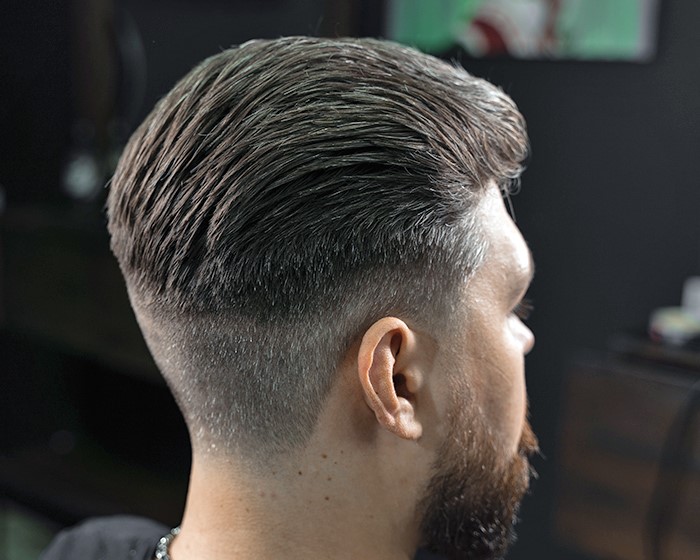 7: Medium Fade:
If you're seeking a style that can meet in the middle, why not opt for a men's medium fade cut. This tapered style is a good starting option if you can't decide between long and short men's haircut styles and will be sure to suit all face shapes.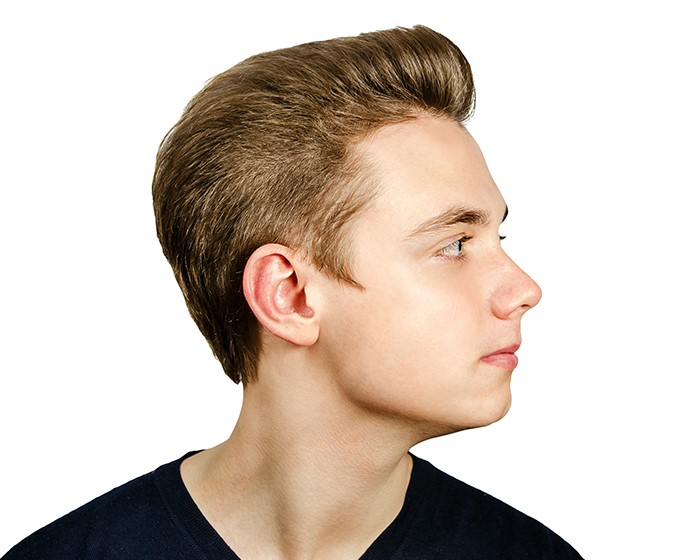 8: Brush Back Pompadour:
A brushed back Pompadour is a versatile look for stylish men. Instead of shaving hair high and tight, eliminate any weight line for smooth blending and shape to the style. You can jazz up this popular haircut for men with lines and unique designs.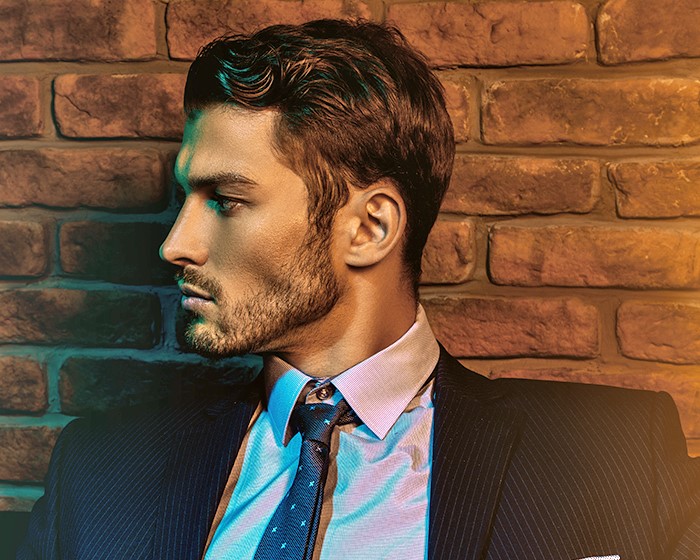 9: Layer Cut for Men:
A cool flow layer haircut is a great and glam style for men. It would involve keeping your hair on the shorter length side and back and growing your hair out on the top.  This is a beautiful scissor cut for men with curly or wavy hair that shows off some great looking flow and movement.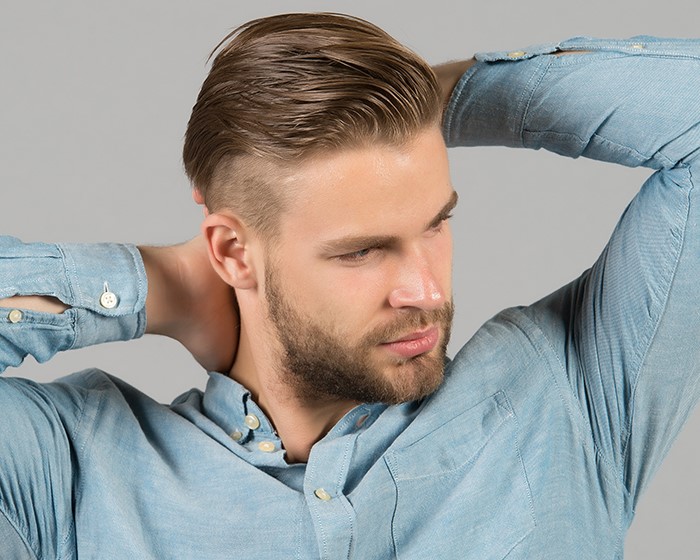 10: Men's Undercut:
This men's undercut keeps the sides of your hair neatly buzzed, while combing over the length of your hair on top. By rocking a longer length on top, you can sweep the longer section back, for an incredibly suave look, that will make your hair look full and thick.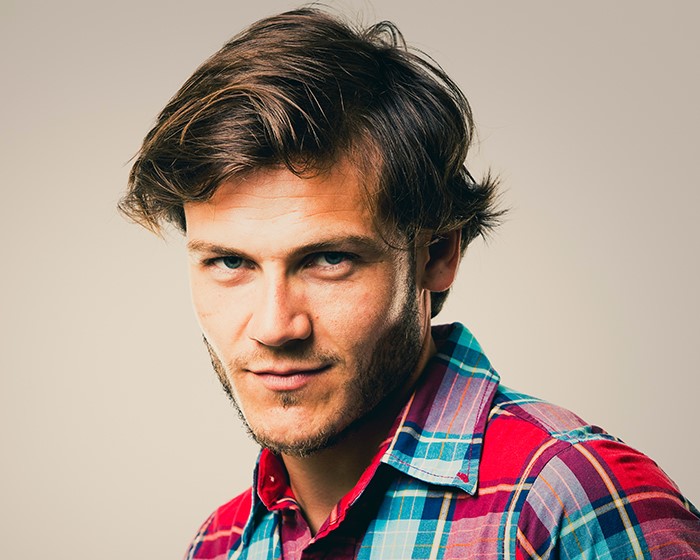 11: Wavy Men's Hairstyle:
Wavy hair with a messy texture is the epitome of sexy for men.  A lot of contrast going on is one of the coolest men's haircuts you can get if you have wavy or curly hair.
The idea is let your hair dry all on its own, ala natural.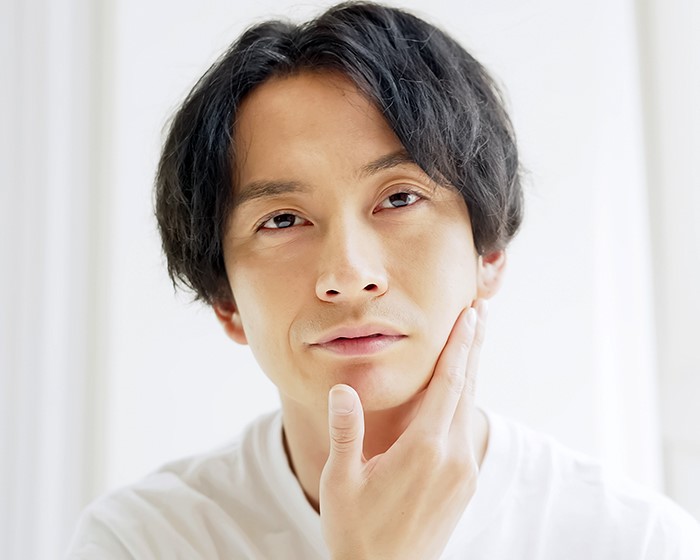 12: Men's Curtain Bangs:
The '90s are a big trend right now, which means that curtains hairstyles are back! With the hair parted and styled into a curtain look, it's a clever way of concealing a receding hairline by covering up those areas of hair loss. Whether you have straight, wavy, or curly hair, this style is very classic and retro.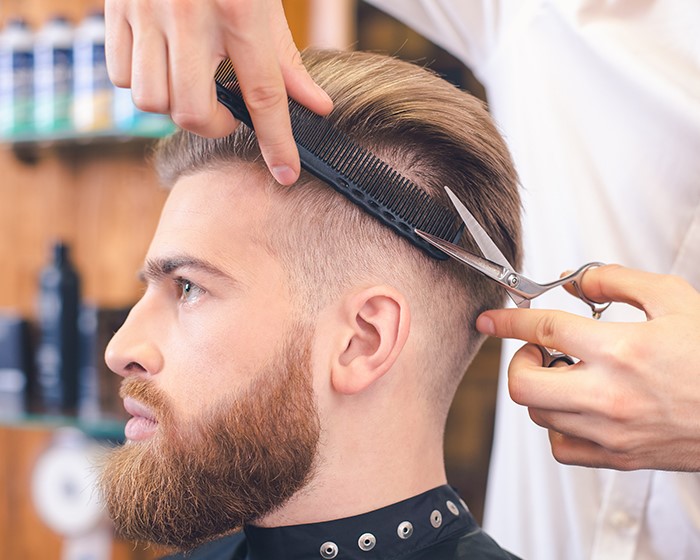 13: High Fade Haircut:
For men who have short or long hair, if you want to nail the suave look, then one easy way to do this is to create slick hair and this high fade haircut is perfect for doing this.  Add some wet-look gel and a fine-toothed comb to recreate this classy, polished style, and you can step out to any occasion.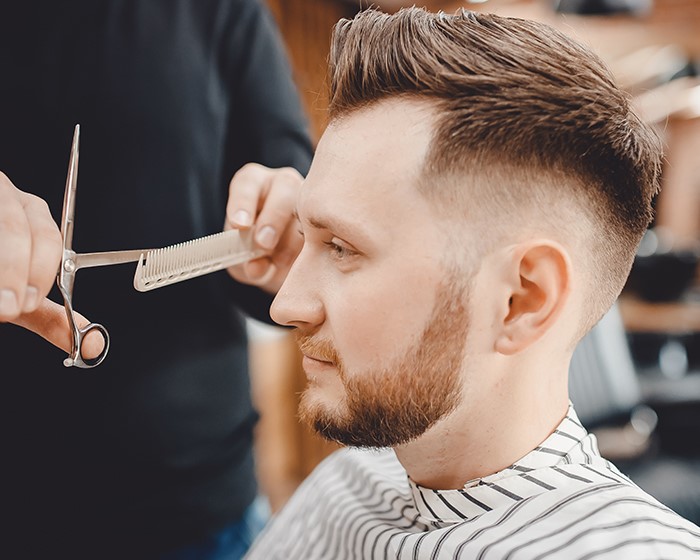 14: Mid Skin Fade:
There are so many ways to spice up a faux hawk hairstyle. Add a faux hawk with a high skin fade, while creating a tidy and clean-cut silhouette, it also lets your quiff take focus.
And remember all you men out there, reverse fade and blend your beard.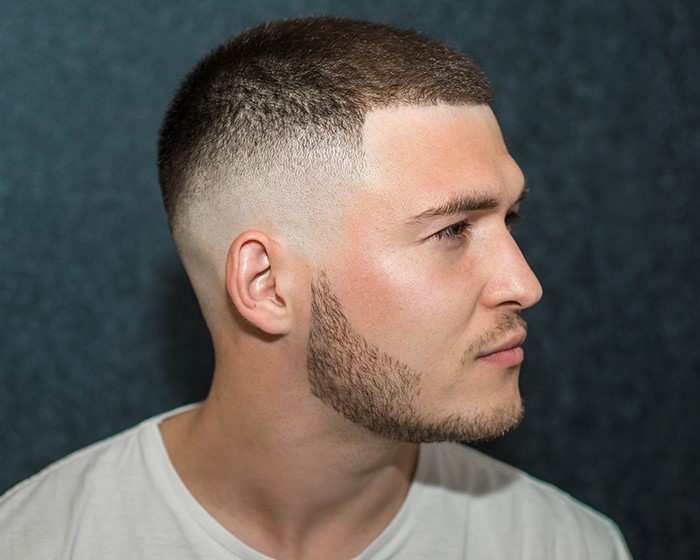 15: High Skin Fade:
The skin fade look is another way to add some more drama to your overall do. The beauty for men wearing a high skin fade is that the hair is cut and fades into the skin. The best way to pair such a fade would be with a short to medium hair on top and quite sick facial hair.
Just consider any old battle scars that will now become unhidden.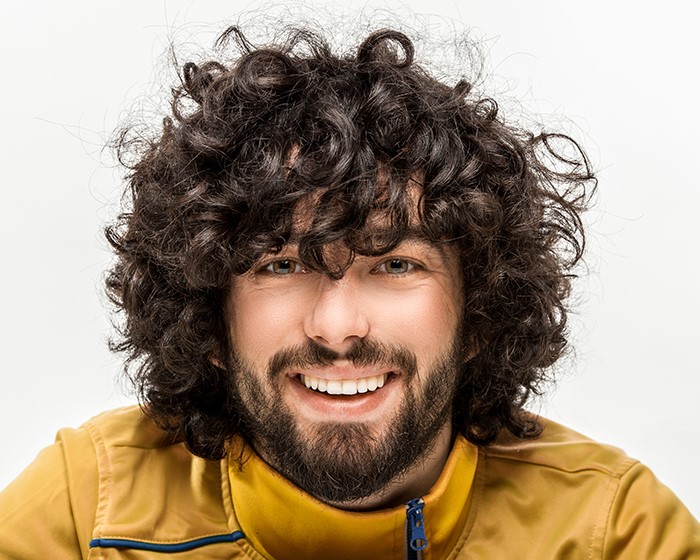 16: Medium Curly Hair for Men
If you are a male and have been blessed with curly hair, then there are many hairstyles to work with. It may not be particularly easy to maintain, however once you do, it can look intricate, attractive, and extremely cute!
Rather than try to tame your curls, why not embrace your curls, and use your blessed texture to your advantage. Curly hair styles suit all lengths of men's hair and can create a sleek look or else a 17: shaggy, sexy look.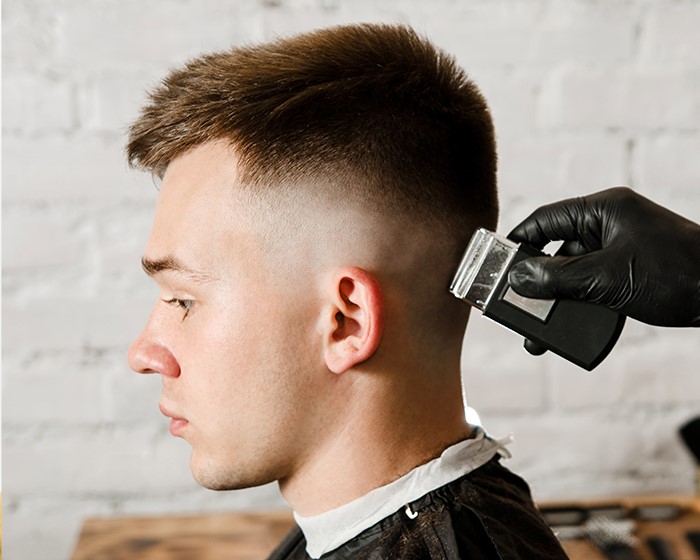 17: The Temple Fade:
The temple fade, or temp fade, is a fade at the temples of the head. It usually includes the sideburns but the faded area can be smaller or larger. A low temp fade may just remove the sideburn area while a high temp fade can cut the whole side of the head short. It is a neat, clean, and a cool men's haircut.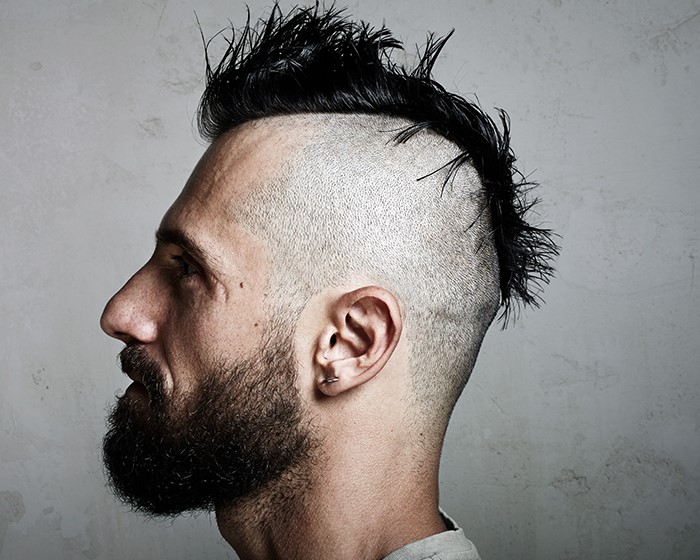 18: The Men's Mohawk:
A mohawk is obviously not for everyone. However, those guys who decide to venture out and try a mohawk cut will see that the look is daring and sharp. Keep the sides faded if you want to play it safer, or else keep the sides bald. Adding facial hair to this look will give an even edgier style.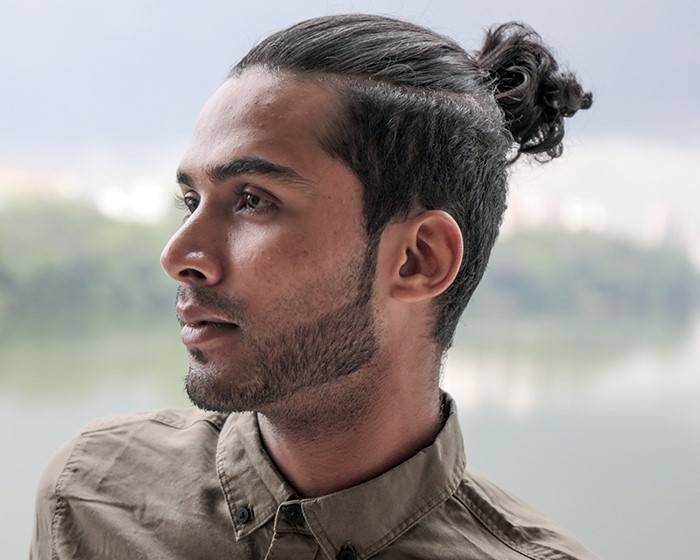 19: The Man Bun:
Looking for a popular and trending hairstyle for men? Look no further, we have it for you! The man bun. Many fashion-savvy guys have brought the style into fashion by pulling their long hairstyles into a bun. It not only takes the hair away from your face but also adds a touch of virility to your whole look. Adding a beard combo to it is a very sexy style.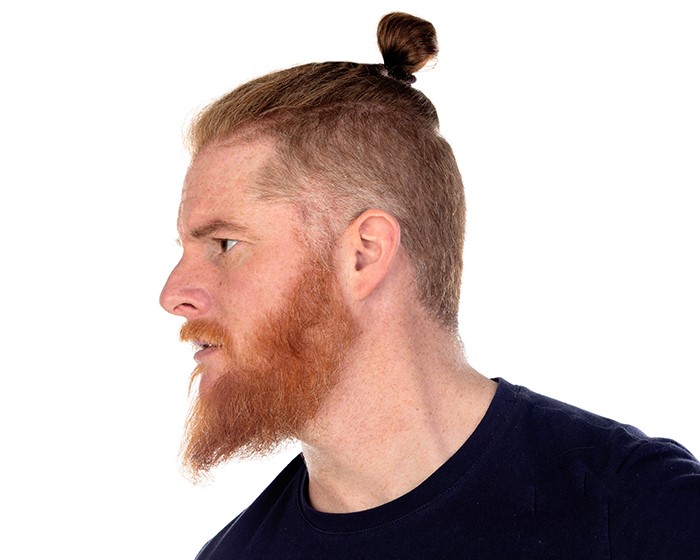 20: Men's Top Knot:
In case you are a fan of long haircut styles for men then we have something in store for you. The top knot bun and an undercut complete each other perfectly. What is more, you can always gather your hair up and make a top knot to show off the undercut or let it loose to hide it away. This laid back look will always look great!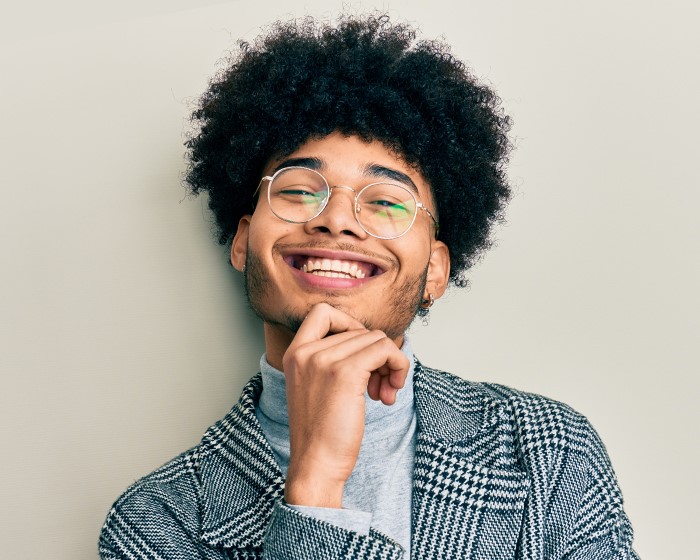 21: Men's Afro:
As the saying goes, if you can't beat them join them, or in this case don't bother trying to tame it! Men's Afros are becoming popular again with young hipster professional males starting off the new again trend.
As you can see, we have tried to provide some variety in this men's hairstyles guide. We have included everything from short skin tapers, fades, pompadours, faux hawks, to medium layers, mohawks, man buns, and afros.
Did you see something that inspires?
Take a look at our other blogs that are jammed packed full of great haircut ideas for men, tips and advice.