Men's short haircuts – it has been the default setting for men's hair since, well, the beginning of time presumably. Sure, there was the exception of the 1970s era, but overall short men's hairstyles are probably the most commonly sported hairstyle today. We are sure you can guess why, short hair for men are neat, tidy, and easy to wear and manage. However, nowadays you do not just ask your hairdresser to cut it "short", as they will be left asking you more questions. Today, there are a number of different short hairstyles for men, all with different rules, cuts, and fades. You are spoilt for choice of what to pick from.
If you are looking for a short hairstyle that suits your look and personality, then let us help inspire you with different styles that you can sport. The short hairstyle is great for work, as it generally always has a clean and professional look to it, and is also great for sport, as it is easily manageable. Whether you're wondering what hair trends to jump on this year, or just need some visual cues to nudge your barber in the right direction, let us help you find everything from fades, to buzz cuts, to layers.
Faux Hawk Hairstyle for Men
The faux hawk hairstyle is the newer trend in men's short hairstyles. It is a stylish look where hair from both the sides especially above the ears is shaved clean. Hair from the top and front is gelled upwards. The hair is arranged in neat spikes pointing forward like that of a hawk hairstyle. The front section of the hair is a bit tousled and merged with the rest of the hair. The faux hawk hairstyle creates a casual and yet rocking look for a social event. For guys who like to style their hair in a unique manner, it is the hairdo that will set you apart from the crowed. The Faux Hawk Hairstyle for Men is a latest invention of style gurus, and has become popular within a short span.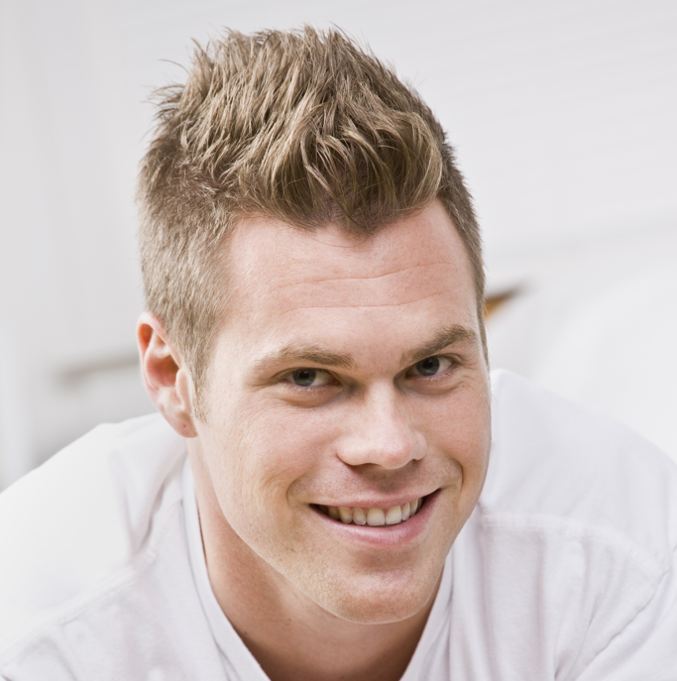 High Fade Short Hairstyle for Men
This season, bid your long hair goodbye with a sleek high fade hairstyle. For men seeking to look and feel cool, this short, sharp cut provides the answer. The high fade short hairstyle is very easy to carry and easier to style also. If you want something low maintenance then try this out. The entire hairstyle is made to be neat and clean. The hair is shaved clean at both sides on top of the ears. This means only the front and the top portion of the head need to be styled. The defining factor of the 'high' fade, is that it reaches up above the midway line between the temples and the tops of the ears. The result is a crisp new look that has a vast range of styling options. This style offers versatility and comfort. Note that there are different types of fades, so if you have some extra length on your hair that you do not want to trim, then the high fade style is for you.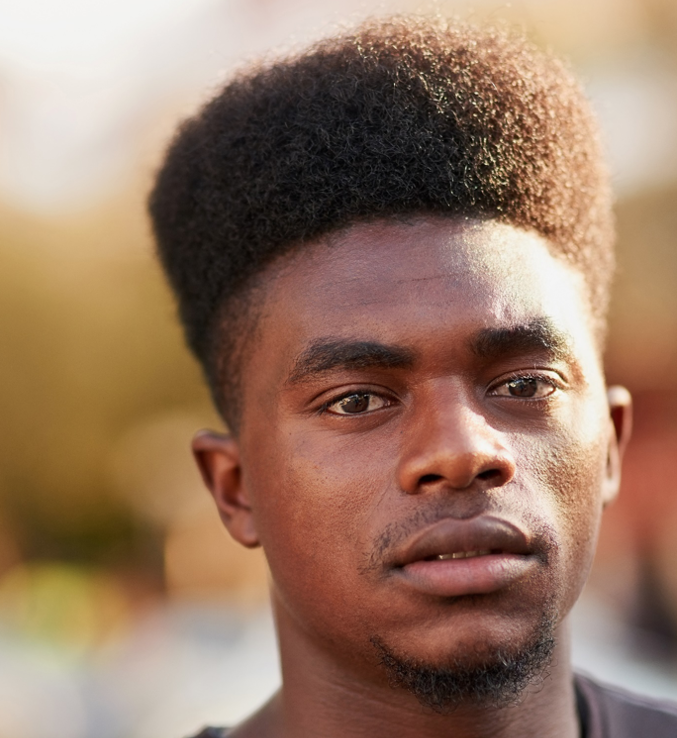 Taper Fade Hairstyle for Men
The taper fade haircut is one of the most recognizable, iconic styles in the world of hair. It has stayed around for so long because of its timeless look, clean style, and versatile appearance. It is great for casual and formal situations. The taper fade short hairstyle is similar to the high fade short hairstyle. It is very easy to carry and easier to style also. It too has comparatively long hair on top. The hair is trimmed in such a manner that is becomes progressively shorter as you travel towards the neck. Both sides have the same style. The hairstyle will complement your casual look perfectly. In case you have fine hair that does not stick to one another, then the taper fade hairstyle will enhance the beauty of your hair. You will see most guys with straight hair opting for this hairdo.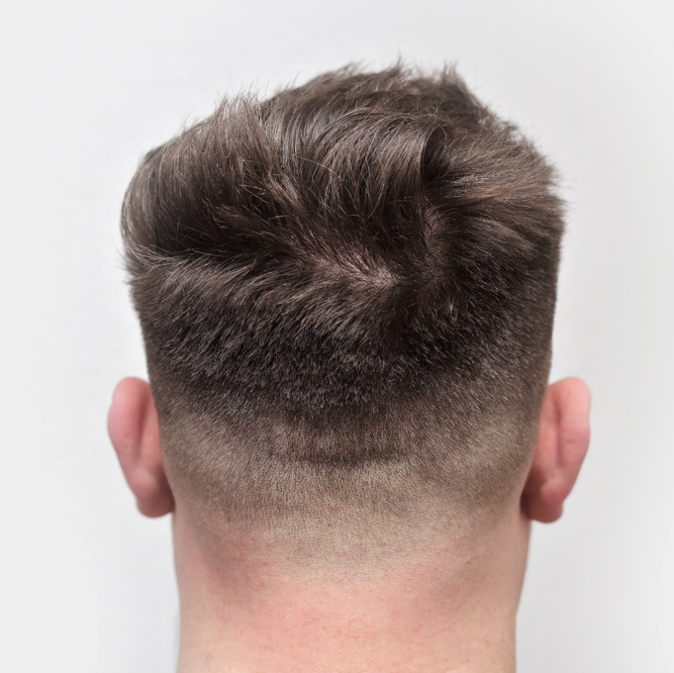 Spiky Short Hair
Spiky hair has long been a fashionable look for men, and while the rock-hard points of the past are gone, this sharp style remains an excellent option for gents. For a classy and sophisticated look, the spiky short wavy hairstyle is the best and easiest to acheive. The haircut is kept very close cut close to the ears on both sides. Leave the hair at the top slightly longer, and style it with gel to give a messy, textured, spike look. This style is ideal if you have shorter and a straighter hair structure. If you want to wear a tuxedo, then the short textured, and spiky haircut will complement the entire look perfectly. The small spike like features, all over the head will give an added charm to your personality.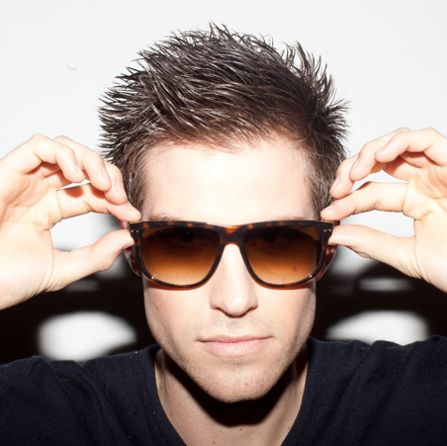 Pompadour Short Hairstyle for Men
If you like all things classic, then the pompadour hairstyle or short quiff is one of the best styles for short hair. If you are opting for a formal look, get a stylish hairstyle while keeping it looking professional and formal. The parted hair is neatly combed and gelled to achieve a neat yet formal look. The front few strands of hair have been tousled a bit to match with the formal dress. This short hairstyle will give you equal leverage on the dance floor as well as in the serious boardroom. This ultra modern hairdo screams Hollywood and red carpet, and is a fashion statement.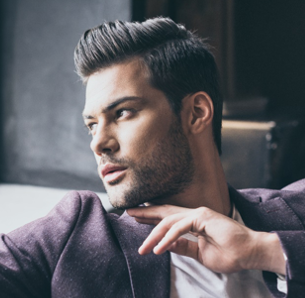 Short Curly Hairstyle for Men
If you have loose curls with good density, then this hairstyle will look great on you. Have a high cut on the top, which will give you an elongated face feel, and have short fades at both sides. Let the curls fall on the forehead a little, if you want to look playful, or else gel it up to create height on your head. There are haircuts that look much better on a man with curly or wavy hair than they do with guys with short hair. There was also a time when straight-haired men wanted your beloved curls so badly they got perms!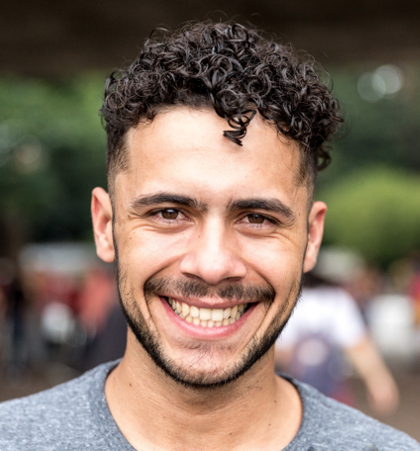 Buzz Cut
Other than going completely shaved, a buzz cut is as low maintenance as short haircuts get for men! This style is only slightly longer than the traditional buzz cut. Buzz cur haircuts for men are not something that you see when you step out of the house. It is because not all have the adequate masculinity in their personality to carry this look with confidence. It suits those with a full face. The beard line is joined with the hair line near the ears. Both the stubble and the stresses are trimmed finely so that you can almost see the skin underneath.
Short Wavy Undercut Hairstyle
The undercut is a timeless choice when considering the best haircuts for men. This cut has been popular for decades, and there has been a recent surge in popularity for this men's cut. It is a longer length on the top of the head while keeping the sides buzzed off allows for style as well as comfort. There are styles geared toward every type of hair whether it be fine or thick, straight or curly. The variable will range even more when you consider the shape of your face, your age and other contributing factors. The men's short hairstyles this year are accommodating no matter your age or preference. If you have naturally wavy hair, then the undercut style is a great look and will require very minimum maintenance and styling products.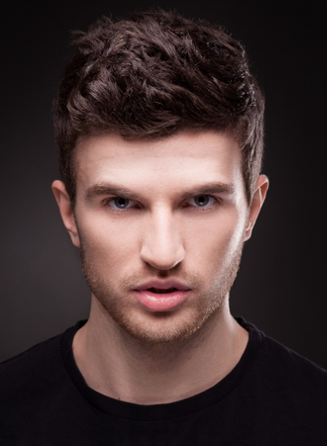 Slicked Back Short Hair for Men
Now comes an all time classic type of hairstyle. If you want an edgy, yet sophisticated men's hairstyle, then look no further. The Slicked Back Short Hair for Men has been a celebrity favourite, and is a polished look that may male celebrities sport. It one of the perfect haircuts for men with long hair. It is a no-fuss option, easy to style hairstyle, just put on some gel and comb. This cut works no matter what type of part you do and whether you do a comb-over or go straight back with it. Even though this option for styling is geared more toward the adult male audience, there is nothing cuter than a young boy pulling off a classic slick back for a formal event, or just to look classy. Not only can this style span the generations and still be chic it can also span age barriers as well. This hairdo, with no or very less hair on sides and back and neatly cut hair on the top part will add an edge to you personality. Though it is not very common, but it does not scream for attention.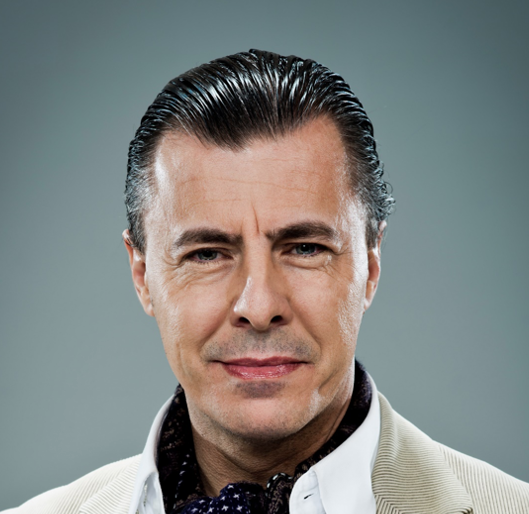 Crew Cut for Men
Crew Cut for Men is another popular hairdo that has continued to exist over the years. It is the best haircut for the summers. The finely trimmed hair will keep the head cool and allow rapid evaporation of sweat from the surface of the skull skin. If you have thin hair or suffer from hair loss, then this is the right hairdo for you. It is super low-maintenance which means that its styling routine is effortless and even unnecessary for short versions. When the cut looks too flat or messy, you can tame it with some pomade to add the needed texture and height. You can use the same product for a side-swept crew cut, by the way. As for long crew cut ideas, clays and waxes will do just great for both sleek and messy looks.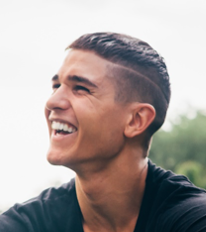 Mowhawk
If you want something uber modern and chic, then the Tapered Mohawk Haircut will come to your rescue. Not all will be able to carry this haircut with confidence. Young teenagers and college goers are seen flaunting the style often, but we are not ageist here, and would recommend this style for all who want a youthful, edgy look. The hair is pulled up in a Mohawk style and you will need some styling gel to keep this position lasting for the entire day. The spikes in front protrude in all directions, thus, giving it a messy look. Mohawks are classic haircuts for men and remain as such. While the typical Mohawk haircut is spiked and appears more severe, the tapered Mohawk is combed back and look more polished and relaxed. However, this look is for the daring guys who don't give a damn when it comes to men's hairstyles.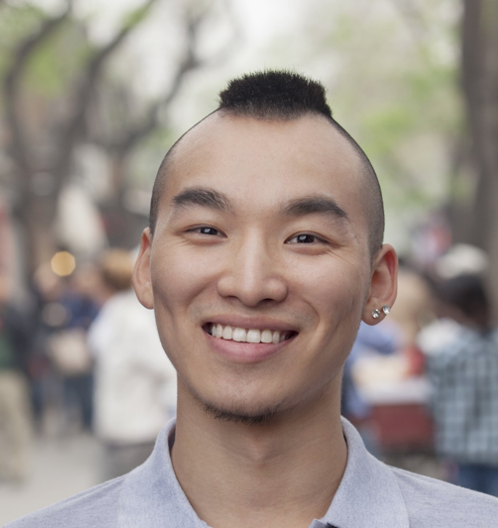 Comb Over Side Part for Men
The men's short-haired comb-over is back, and looking dapper as ever. Comb-overs, or front flips as some like to call it, should not be used to mask thinning hair, however, if you do have thin hair, then this style is perfect for you, as it adds extra volume and texture to your hair. If you  are lucky enough to have voluminous hair, then your side comb over can look extremely fashionable with texture, layers, and a beautiful sweeping effect. Try using some product to keep the comb over in place. Once seen as a studious style, has now surged in popularity with plenty of male celebs rocking the look at formal events.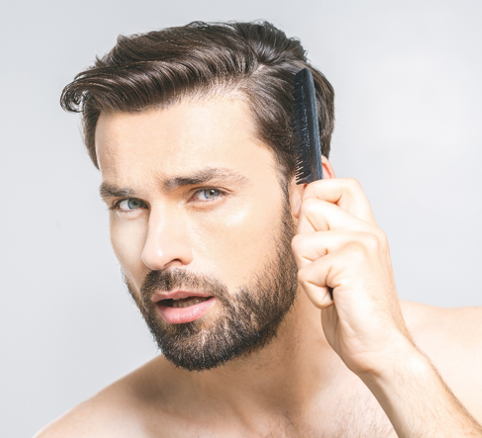 The Fringe Cut for Men
"Fringe" is basically just a euphemism for "bangs." It usually refers to just an inch-or-so of hair, swept forward over onto the forehead. It can be used to cover receding hairlines, or just as a style choice that tiptoes into the Caesar territory. It can be less defined and textured than the Caesar, and done with any density or type of hair. It also can be blended into any type of trim on the sides, and blend into the hair, or can be clearly defined as a fringe. Either way this unpopular, yet extremely attractive men's hairstyle, could be perfect your next haircut. If you have a larger surface area on your forehead, then a fringe may not be a bad option to give some dimension to your face.